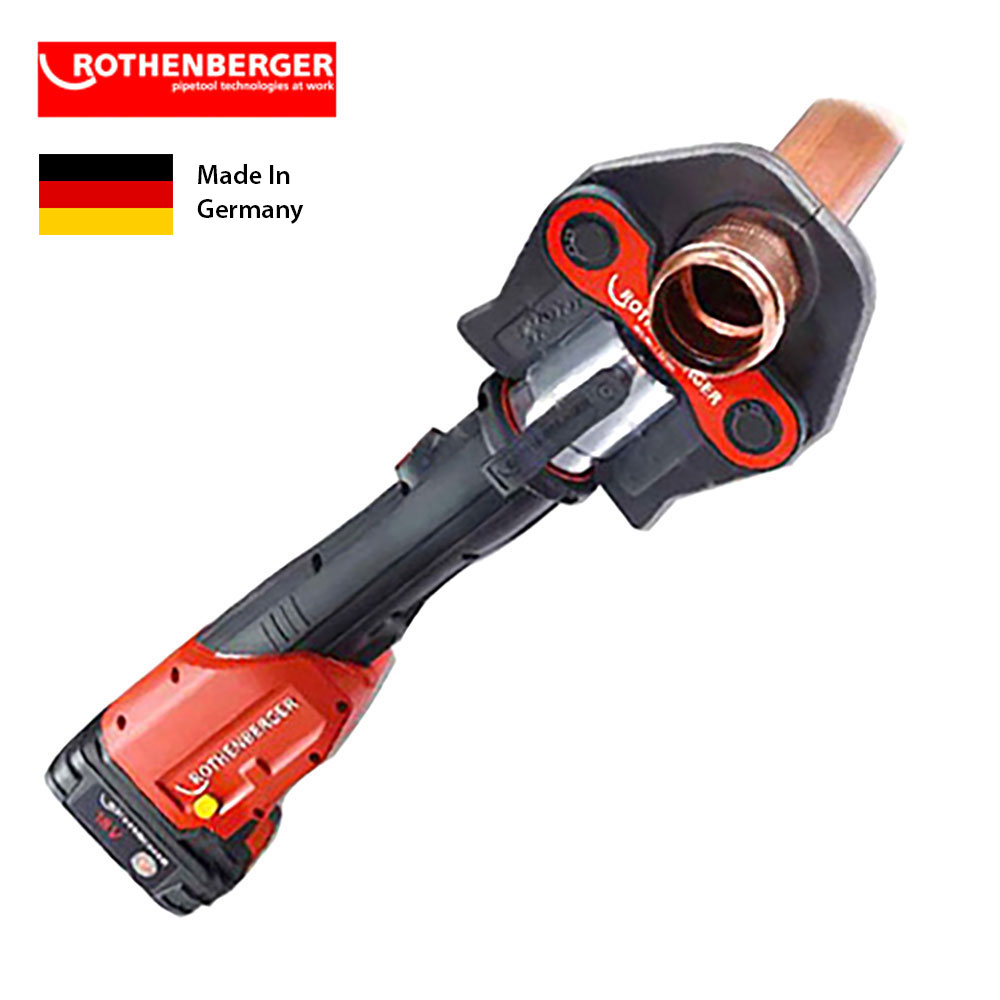 Hydraulic Press Tool ROMAX 3000
Electro-hydraulic press machine for battery and mains operation for the system dependant pressing of fittings up to Ø110 mm* with 32 - 34 kN.
Wand-Like Design allows use in installation shafts and by front wall constructions
Rubberised Handle Secure hold even in wet conditions
Safety Lock No unintentional opening because a 180o rotation is required
2-Speed Switch Light pressure activates the LED when pressed through the pressing cycle begins
LED Display Electronic flat battery detection, electronic counting of press cycles (Notify maintenance interval), further pressings possible
Emergency Stop Switch Immediate interruption of the feed and retraction of the piston
Powerful motor Fast pressings in approx. 5 seconds
Light Weight and Balanced Weight Distribution Fatigue-free and ergonomic use even over long periods of time
Press Jaw Fixture can be rotated 270o For easy operation even in confined spaces
CFT-Technology (Constant Force - Technology) for constant axial pressing force of 32kN Constant pressing force over 20,000 press cycles
APPLICATION RANGE:
The ROMAX® 3000 is fast, light, handy and safe. It is ideally suited for use at the building site.
KEY FEATURES:
Fast
A pressing cycle only last approx. 5 seconds. The piston retracts automatically after every finished pressing.
Safe
CFT® guarantees the necessary pressing force. The automatic controlled press cycles ensures that the piston retracts to the starting position after the necessary pressing force has been reached.
Light
The extremely low weight, as well as the balanced weight distribution, ensure fatigue-free use even in continuous use.
Reliable & economical
Thank the highest quality service interval of 20,000 pressing cycles. This secures continuous economical use.
Expanded operational temperature range
The ROMAX® 3000 works perfectly even under adverse environmental conditions. Pressing is possible between -10° C and +60° C.
Large range
The standard Li-ion technology allows up to 160 pressings (with 28 mm stainless steel), and/or 90 pressings (with 54 mm stainless steel) with each charge.
Practical design
The compact, wand-like design allows pressings even in confined spaces.
Technical data
| | |
| --- | --- |
| Dimensions | 445 x 125 x 75 mm. |
| Weight | approx. 3.6 kg (without press jaws). |
| Piston force/-hub | 32 kN / 40 mm. |
| Nominal size | Ø 15 - 50 mm (system dependant). |
| Press jaw fixture | 270° rotation. |
| Power supply | Li-ion battery 18 V / 3 Ah. |
| Operating temperature | -10° C up to +60° C. |
| Pressings | Up to 160 with 28 mm stainless steel Up to 90 with 54 mm stainless steel. |